It was my birthday on Wednesday.
It was a long day.
It started with some coffee (Hot Choc for me) with some friends at 7 30.
Yes getting up at seven is early for me.
How things will change when the little one is here.
When I got home Myl had a surprise adventure for me.
We got on a bus to a mystery location.
The Registry of Births Deaths and Marriages!
While we have been married for well over a year we hadn't gotten our actual marriage certificate yet and in order to change your name you need to buy a special certificate not just the one you get on the day.
So we got it. And now I'm officially an Elton.
Then Myl took me (pregnant lady) on a wild goose walk around Chippendale/Ultimo/Glebe.
I had no idea where we were going. We turned up at the Broadway shops and I got a free Boost Juice for my birthday. We then went to the cinema and watched Tomorrow When the War Began.
It was still only 10am.
After that he took me to a surprise lunch. It was going to be Yum Cha but the picture on the front of the restaurant made me feel a little queasy so we went to Chinatown instead and had a lunch special.
After lunch we walked down to Darling Harbour and went to the Chinese Gardens. It is such a beautiful and peaceful place.
Myl made me get dressed up in these Chinese clothes and took my picture around the garden. I looked quite un-chinese but it was fun.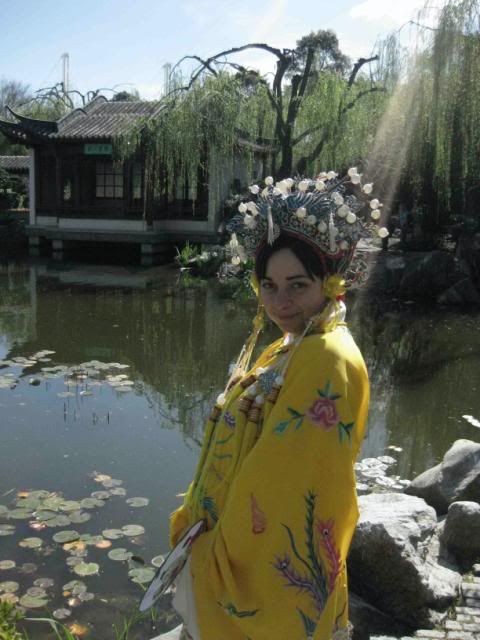 We walked round the harbour and saw some sweet little baby ducks then we caught the tram home.
I had a 20 min power nap before going off to nanny and then we had bible study.
It was a really nice Birthday.