When I was little I owned a little cardigan called buttons.
It was my special friend.
When I was lonely at night i would suck my thumb and hold buttons.
It had these little buttons on it that I would rub on my upper lip.
It would calm me down.
Well...
I now have a new button.
And you can have it too.
If you look on the left side of my blog you will find a link you can copy and paste to your blog/website. Anywhere that will let you view html text.
It will link you straight here anytime you click it. Cool huh?
It looks like this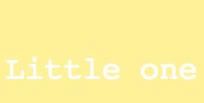 So cute so fun so easy.
Let me know if you are using my button by posting a comment.